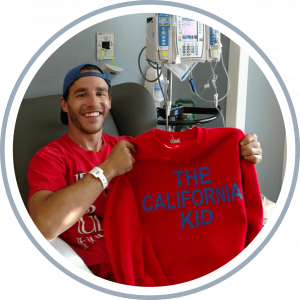 Author

|

Director

|

Producer
I was born on May 15th, 1988, in Crystal Lake, Illinois. I have three sisters (two older and one younger)- Megan, Katy, and Kelly. Since my youth, I've grown up all over the map.
From age 3-10, my family lived in a community outside of London, England, called Weybridge, Surrey. We relocated from the UK to Saginaw, MI (quite the culture shock), for 5 years, finally settling in Naperville, Illinois in 2003 I lived around Naperville during my high school years and throughout college and my first years of employment until eventually moving to Oceanside, California in 2014.
I've thought quite deeply about this area of the webpage, and have to say, it's quite difficult to sum up your life in a simple, "About" section on a website. I figure I'll do my best to share what's important to me, as I've found that these elements have shaped who I am as a person. Like many others, I feel the most important part of my life are my family and friends. I recognize I wouldn't be where I am today without their constant love, support, disagreements and tiffs- these experiences, along with a combination of others, culminate to create who I am.
Another major aspect of my life that I have come to know and develop a deep love for over the past 25 years is the game of hockey. My greatest memories are from the rink or involve individuals who I've met through this game. Although hockey is considered just a game, any true hockey player will express that it is much more than a simple game. Hockey provides the opportunity to develop lifelong friends, learn lessons of triumphs and defeat, and escape the brutal realities of the real world (even just for a little bit). When you lace up the skates and hear the ice crunching beneath each stride, you know you've been elevated to a different realm. I owe a tremendous amount to the game of hockey- she's the ultimate beauty. Finally, being involved in the special education community as a teacher has been a privilege and a unique experience.
And yes, of course it is; however, I've always felt I've gotten the better end of the deal because I found a career I truly enjoy at a young age and know it's something I can navigate for as long as necessary. It's not often people can say that their work is their passion and something they are truly happy doing. Don't get me wrong- it's a stressful job. My students are challenging and it requires a great deal of patience both with students, staff, and the school environment as a whole. Throughout my experiences as a teacher, I've felt extremely fortunate to have always had a solid team around me, including at the school and district level.
So- family and friends, hockey, and teaching. Those are three components of my life that I invest a lot of time in. I have a variety of other interests including gaming (Playstation 5- wooooo!), growing cannabis, other athletics (watching football, baseball, sports in general), going to the beach, Harry Potter, reading or learning new skills, and traveling. I love traveling and if I could pack up my truck and hit the road- I'd do it in a second. Which brings me to our next discussion and primary purpose of this website…
Today, Stage III means the disease has already spread to different parts of the body. In my case, it had spread to the Lymph Nodes and other areas in the pelvic region. I have been going through cancer treatments since 2017, receiving everything from chemotherapies to radiation to immunotherapies to major surgeries. Unfortunately, as time has progressed, so has the disease.
Although cancer has been a big part of my life for the past 4 years, I do not consider it a defining characteristic of who I am. I'm not that guy with cancer, I'm Andrew Flack, a person who has cancer. Prior to starting this journey, I decided that I will not view myself as a victim of cancer, rather that this disease is providing me with opportunities. Opportunities to become closer with family and reconnect with old friends, opportunities to be involved with modern medicine, opportunities to meet amazing new people through doctors, nurses, and other patients, opportunities to reach my physical and mental limits and push beyond those limits, opportunities to reflect on my own morals, ethics, and beliefs, and finally, the opportunity to develop this project- ideally shedding positivity and light on a dark subject.
I encourage anyone reading this to reach out via email or Twitter (@DeathwithDignityPodcast). I'd be thrilled to answer any questions related to my life, the disease of cancer, or even just to talk and make a new friend! I look forward to what the future holds and will continue to believe in the good.